The Dudley Moore Trio--Dudley Down Under--unabridged
Dudley Down Under--unabridged is a very special new release, and Martine Avenue Productions is proud to bring you, for the first time ever on CD, the entire live 1978 concert by the Dudley Moore Trio, complete with Dudley Moore's hilarious commentary. The listener will feel what it was like to be in the audience for this historic concert, performed in Australia's Sydney Town Hall. This two-CD set honors the memory of Dudley Moore on the tenth anniversary of his untimely death on March 27, 2002, at the age of 66.
To our British and European Customers:
We are always happy to take your order. We would also like to tell you that, through our UK distributors, Essential Music and Marketing, it is possible for you to order this new CD from the following sites:
Please do not hesitate to contact us at info@dudleycd.com if you have any additional questions.
---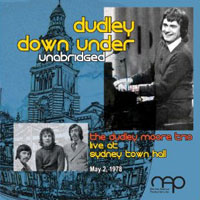 Songs Without Words
Piano Solo Collection, 13 pieces, 63 pages
Martine Avenue Productions is proud to announce the publication of the piano score to Dudley's Songs Without Words. Transcribed by Steve Law from the original Album, Songs Without Words, this volume is published by Faber Music, UK, and Martine Avenue Productions, along with Bucks Music Group. This is the first full transcription and publication of this remarkable set of thirteen beautiful piano pieces.
Dudley wrote his collection of Songs Without Words as "pure music; the essence of music," as he described it after completing the collection.
"The title comes from the fact that I have always felt that lyrics often put too much specificity into music that needs no hint of particularization. There have, of course, been much more than a handful of wonderful lyrics written–but I tend to write music that creaks painfully under the yoke of added words. So here they are. Themes from films–like Six Weeks, and tunes written for no good reason. They are all melodies that I love (that haunt me, at any rate), that I would like to share–not with words, it seems, but with you."
The songs were finished in 1991–after more than a decade in the making. The ballads were complete, and Dudley recorded them, but they remained only in his head and he never wrote them down.
The thirteen pieces share a melancholy and pensive feeling typical of Dudley's compositional style. The British composer and arranger, Steve Law, transcribed the pieces, retaining the integrity of Dudley's rich melodic line, lush expressive harmony, and jazz-like improvisation.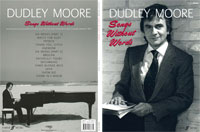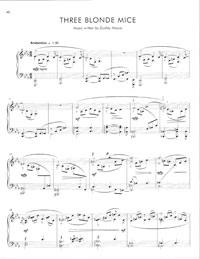 Bedazzled--revisited
Martine Avenue Productions is delighted to announce our new CD release, a digitally remastered soundtrack of the 1967 film Bedazzled, with music composed, arranged, conducted and performed by Dudley Moore, and featuring the Dudley Moore Trio.
The 1967 film Bedazzled was the first motion picture with Peter Cook and Dudley Moore together in starring roles. Produced and directed by Stanley Donen, the film starred Eleanor Bron, Raquel Welch, and Barry Humphries (AKA Dame Edna), along with its creators Peter Cook and Dudley Moore.
The music for the film was composed by Moore, who arranged, conducted and performed the score. The title song, "Bedazzled," was composed by Moore and Cook. Singing voices include Moore and Cook together in "The Leaping Nuns' Chorus," Dudley in "Love Me," and Peter in "Bedazzled." The Dudley Moore trio, with Dudley on piano, Peter McGurk on bass, and Chris Karan on drums, is also featured on many tracks.
The story of Bedazzled was conceived by Dudley and Peter. Stanley Moon (Moore) is a short-order cook, working in a London hamburger bar. For years, Stanley has been obsessed with Margaret Spencer (Eleanor Bron) a waitress. Enter George Spiggott (Cook), the Prince of Darkness, appearing in Stanley 's room during a botched suicide attempt over unrequited love.
The Devil tempts Stanley with seven wishes to be granted in return for possessing his soul. At Spiggott's headquarters in Soho , the Rendezvous Club, Stanley signs the Devil's contract, believing Margaret will at last be his.
This is a digitally remastered version is the original soundtrack from this cult classic of 1960's British filmmaking, showing Dudley on the brink of transatlantic stardom, and demonstrating his musical genius throughout the CD.
---